Dr. Subbiah Alwarappan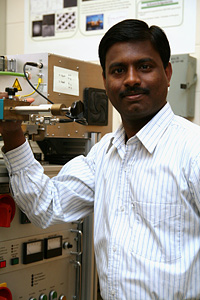 Dr. Subbiah Alwarappan is working as a Senior Postdoctoral Associate at Nanomaterials and Nanomanufacturing Research Center (NNRC) from Oct 2009. His research interest includes development, modification and characterization of carbon based materials (graphene, CNTs, diamond) for in vivo and in vitro electrochemical biosensing applications (detection of neurotransmitters). Further, his research interest also includes spectroelectrochemistry, electrochemical immunosensors, bioelectrochemistry such as electron transport phenomenon in biological molecules (proteins and peptides) and designing implantable biofuel cells.
Degree(s):
PhD (Electroanal Chem) @ Macquarie University, Sydney, NSW, Australia Advisor(s): Dr. Danny K Y Wong and Christopher Mcrae
MSc (Chem) @ Presidency College, Chennai, India Advisors(s): Dr C.Ahmed Basha and Dr. R. Sankaranarayanan
BSC (Chem) @ Alagappa Government Arts College, Karaikudi, India
Work Experience
Postdoctoral Research Associate with Dr Donald M Cannon Jr @ The Department of Chemistry, The University of Iowa, Iowa City, IA, USA.
Postdoctoral Researcher with Dr Chen-Zhong Li @ Department of Biomedical Engineering, Florida International University, Miami, FL, USA.